For Dhruva and Rittika, Memorial Day Weekend unveiled itself in bursts of bright colors along the shoreline of Turks & Caicos where the two chose to say I do. With 75 guests touching down on the island from all over the globe — Los Angeles, London, Chicago, and beyond — an event of this size made Beaches Turks & Caicos the perfect location to accommodate everyone.
In the months and weeks leading up to their big day, Rittika and Dhruva worked closely with their personal Beaches wedding team to discuss all details over the phone, share inspiration boards, and choose décor elements.
From extravagant fashion pieces to five exquisite celebrations, this wedding weekend was one for the books.
Since the wedding was a weekend-long affair, rich in celebration and tradition, the team at Beaches went the extra mile to bring the couple's vision to life and incorporate meaningful cultural touches.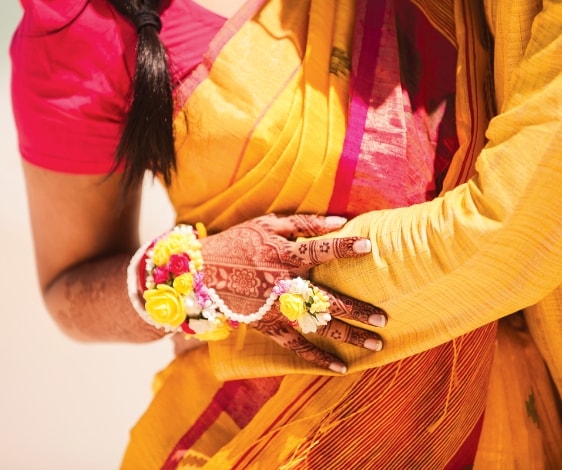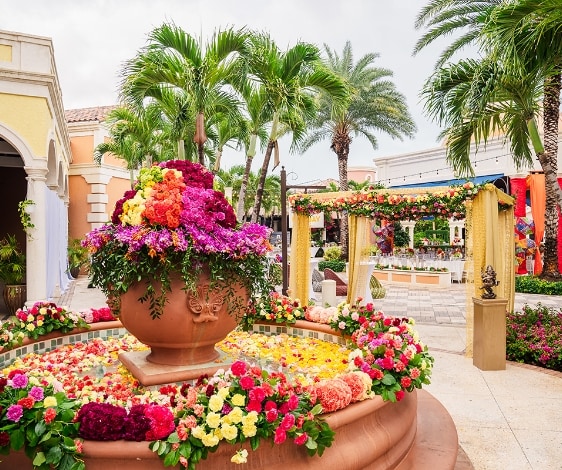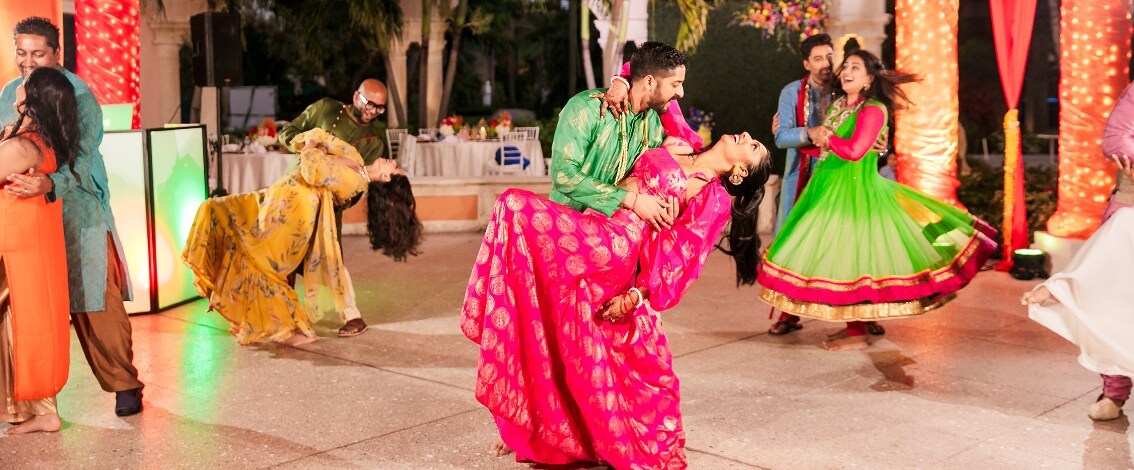 The brilliant, yellow hues of turmeric paste, better known as Haldi, symbolizes prosperity in new beginnings for the bride and groom.
To kick off the wedding weekend, Friday morning called for a Haldi ceremony at the Turtles Bar gazebo. A special celebration meant to ward off evil spirits and bring prosperity to the bride and groom, the patio was beaming with an abundance of bright yellow, magenta, and orange décor. Forming an aisle to the center of the patio, ribbons of marigolds cascaded from golden urns set atop white pedestals. With the couple seated in the center of the space, surrounded by delicate fabrics, hanging umbrellas, and bowls of turmeric paste (known as Haldi), family and friends gathered around to spread the haldi onto the faces of the bride and groom.
As for the final celebration before the big day, Rittika and Dhruva hosted a traditional Sangeet. Jewel-toned fabrics draped elegantly from the dome of Bombay Club, while the wedding party took center stage to perform dances choreographed by the bride. An event hosted for celebration, laughter, and fun, the Sangeet was the perfect way to excite guests and welcome everyone to the wedding weekend.