I Vacationed at Beaches Turks and Caicos with My Girls and a 90's Boy Band, Here's What Happened
---
Not every vacation needs a theme, but it never hurts – right? That was my thinking when I hit "book" on my end of summer girls' trip. Cut to me and four of my friends packing our bags and boarding flights to Providenciales, ready to check in to Beaches Turks & Caicos. This wouldn't be any typical Caribbean vacation though; we were celebrating a guest of honor – well, four guests of honor. During our week in Turks, we would be sharing the sand with our 90's crushes, the members of the iconic 90's boy band 98 Degrees.
The band, who have taken the past two decades off of performing to focus on making new music, were set to reunite for a performance at Beaches Turks & Caicos, performing all their old hits and wrapping up summer with some sweet nostalgia.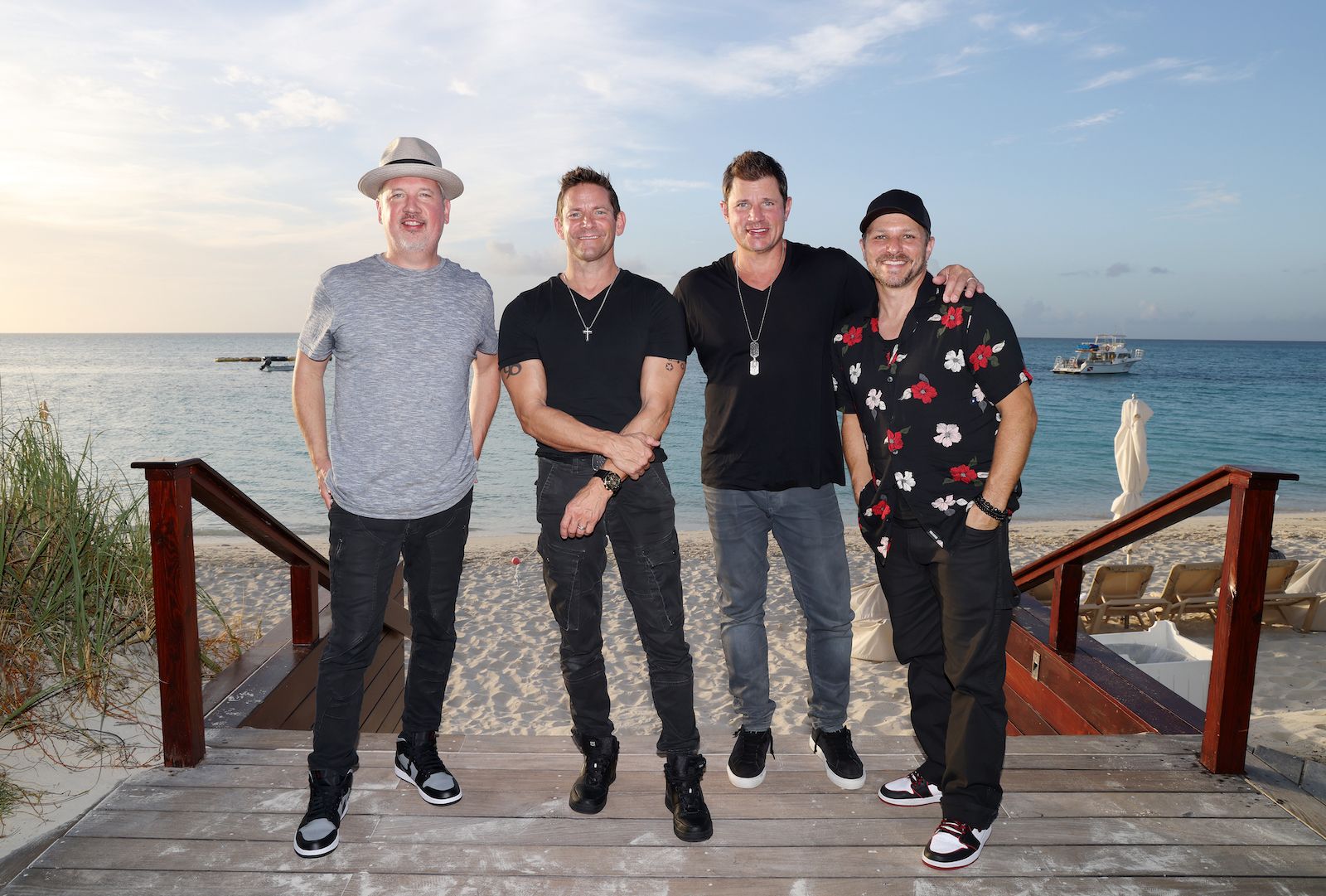 Photo: Things heat up as 98 Degrees hits the white-sand beach at Beaches Turks & Caicos. Getty Images for Beaches Resorts.
Upon arrival at the resort, we began our trip the way you begin any good vacation – snacking at the Mac Daddy of cheese food trucks. On the patio of Mr. Mac's, we shared a few pints and (a few plates of) cheesy nachos and (what seemed like) endless styles of mac n' cheese, before quizzing each other on 90's boy band trivia.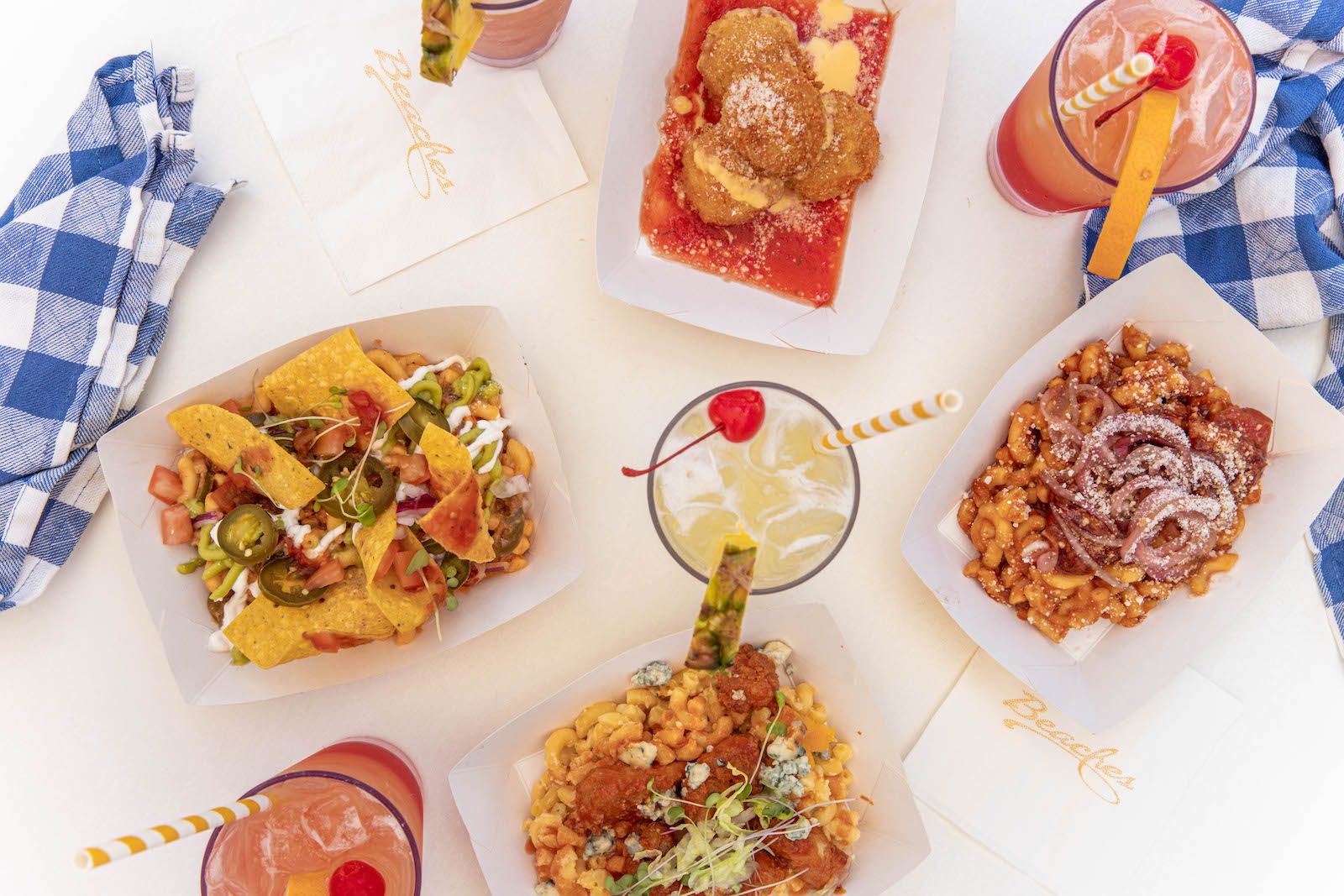 Trivia games turned into lyric recalls as we hit the sand, dipping our toes in the clear water, wondering all the while if Nick Lachey had done just the same mere moments before we did. Since we had two whole days of vacation before the concert, we made a pact to not discuss boy bands, low rise jeans, or anything 90's related for at least 24 hours. Lucky for us, we had plenty of distractions.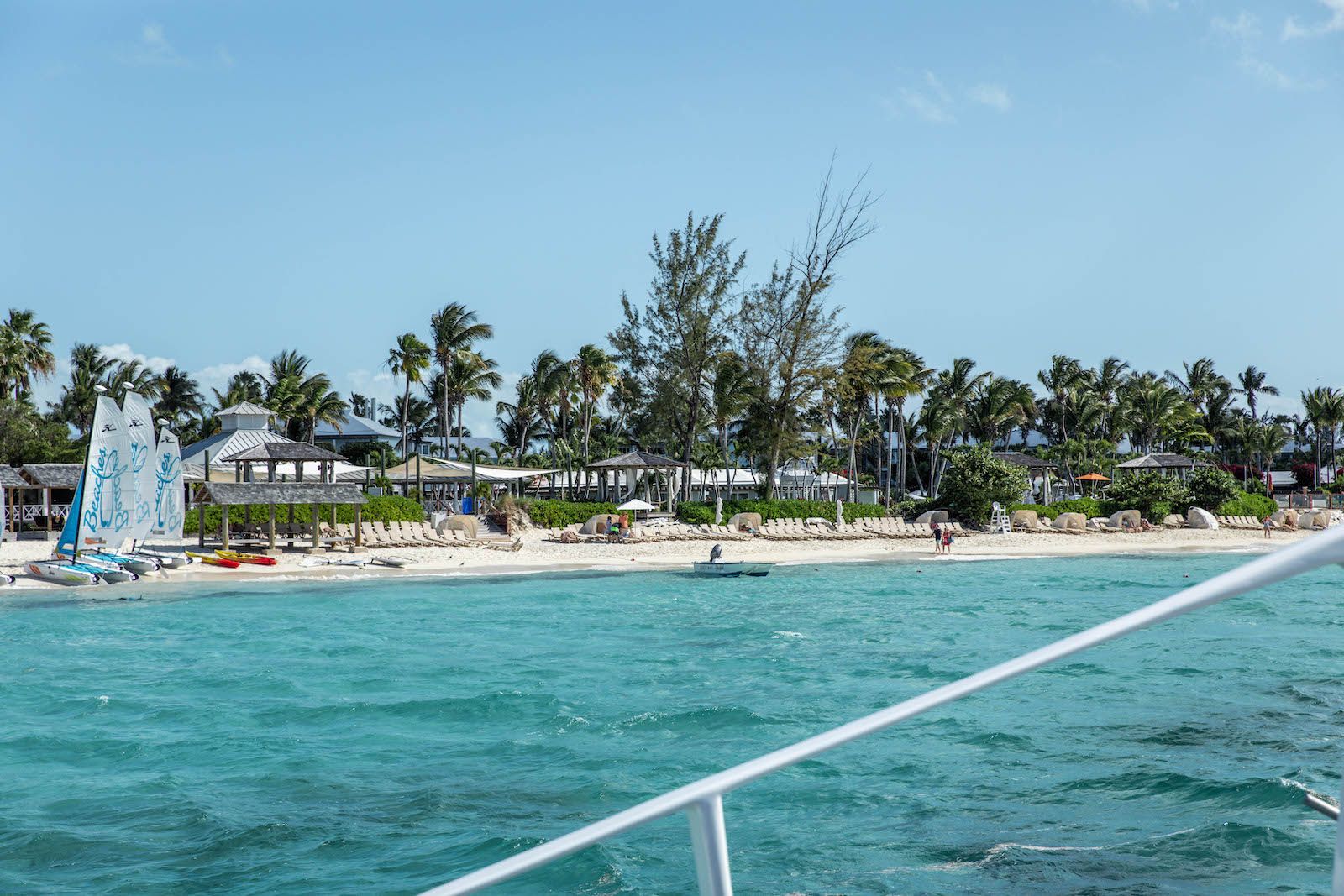 Photo: Catamaran views of Beaches Turks & Caicos' Key West Village, lapped by clear turquoise waters.
The next morning, we hopped aboard an Island Routes Catamaran Cruise – and boy, it did not disappoint. As we rode the gentle waves overlooking the gorgeous resort, we soaked up the island breeze, sipped Caribbean cocktails and danced to non-90's music – as to not break the pact, of course. Still, the nostalgia of youth was alive on that boat in the form of scrunchies, neon bathing suits, and snorkeling – chunky goggles and all.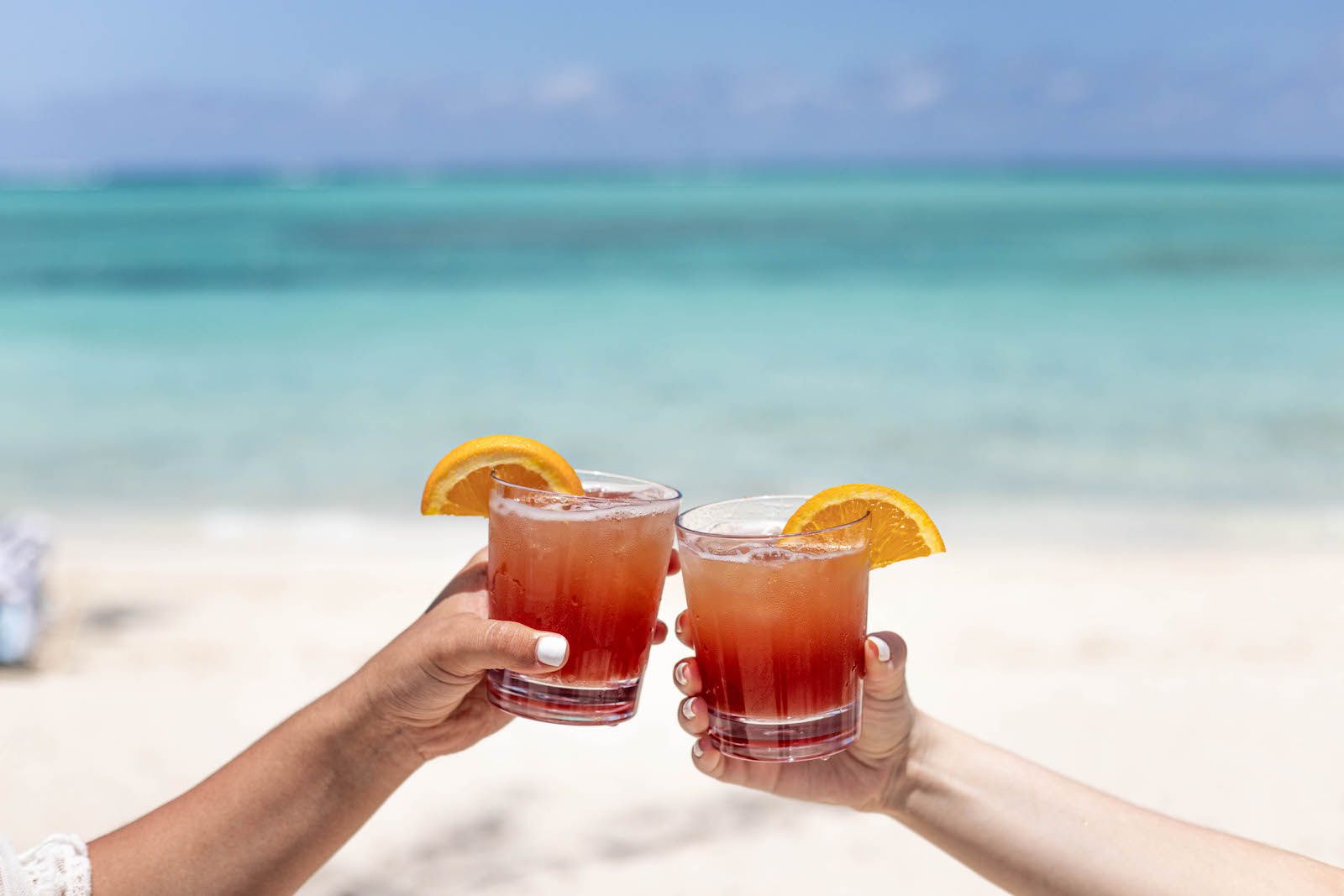 After a few hours in the sun, we took reprieve in the Red Lane Spa – an oasis just steps from the sand. While our childhood selves may have been able to handle endless virgin daiquiris on a loop, just one rum punch had us snoozing on the spa tables.
Thankfully, our relaxing spa treatments invigorated us, sending us right back into the sun for some beach time. We indulged in some more rum punches, went paddleboarding, and if we're honest, napped some more. We wrapped a perfect day with dinner in the sunset at Neptunes, ordering more food than could fit on the table and not regretting it for a moment.
The next day, we rinsed and repeated. We swapped lunch salads for sandwiches, paddleboards for pool chairs, and made our way back to Cricketer's for late night drinks and karaoke before dozing off and dreaming of the 90's.
Finally, the concert day had arrived. We began the day with brunch near the beach, quizzing each other on 98 Degrees fun facts and ranking the most iconic lyrics. We snuck a few more hours on the sand before heading to Le Petit Chateau for a Parisian dinner, followed by face time with the band at the VIP cocktail party.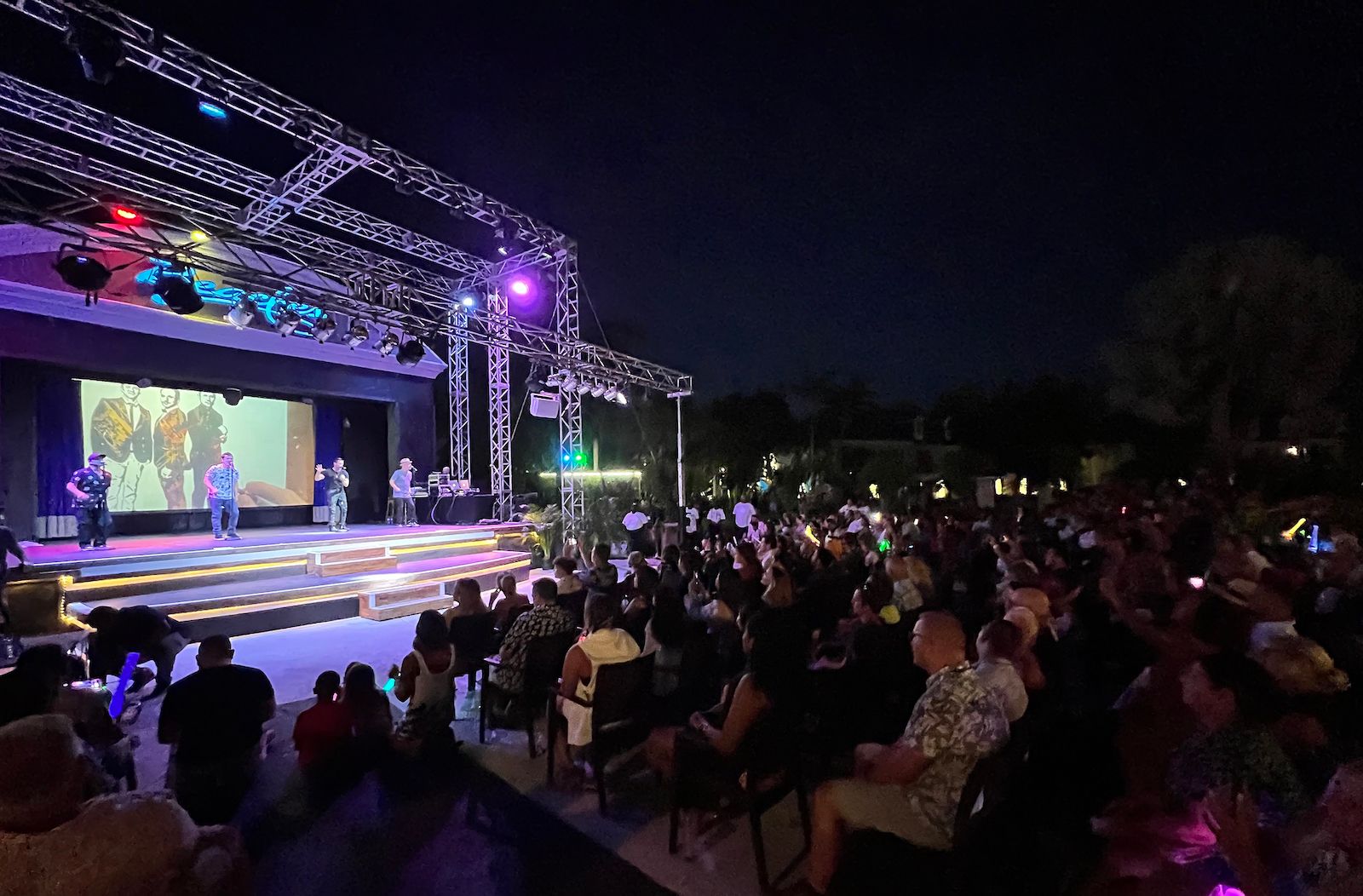 Photo: 98 Degrees performing at Beaches Turks & Caicos to a crowd of nostalgic, boy-band loving families and groups of friends. Getty Images for Beaches Resorts.
Then, the time had come. We all gathered in the French Village with anticipation as a large screen began flashing 98 Degrees album covers in rapid succession. The band made their way to the stage, to the tune of hundreds of cheering guests, and began with their hit, "Give Me Just One Night (Una Noche)."
By then, the crowd was already at their feet, where they stayed for the entire performance as the band shuffled through their greatest hits. When they performed "I Do (Cherish You)," visiting couples slow danced and embraced. They welcomed country star Brett Kissel to the stage to perform their latest collaboration, "Ain't The Same."
Then, as if it couldn't get any better, the band treated the crowd to a TRL flashback, performing a medley of 90's hits from NSYNC to Britney Spears to the Spice Girls. It was one of the most fun concerts any of us had ever attended, just steps away from the best beach any of us had ever swam in.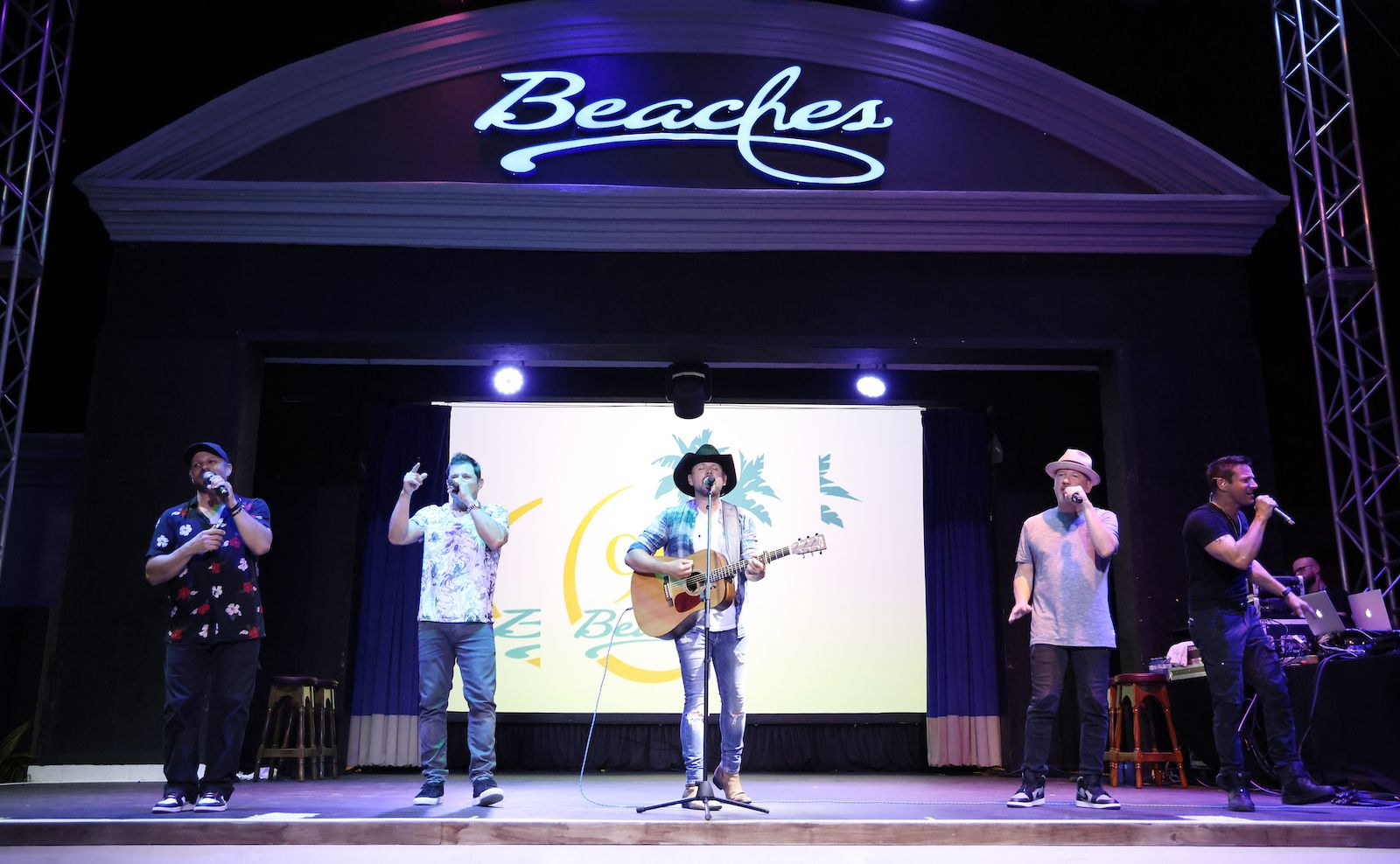 Photo: Country star Brett Kissel surprises guests at Beaches Turks & Caicos and takes the stage to sing "Ain't the Same" with 98 Degrees. Getty Images for Beaches Resorts.
After the concert was done, we hummed and danced our way into a table at Soy for more sushi than I had ever seen served in one setting. We chatted about our favorite songs and moments of the show and learned that 98 Degrees was far from the first band to perform at the resort. Before our time here, similar girl groups and traveling families had seen performances from NSYNC, Hunter Hayes, Lee Brice, Jerrod Niemann, and Dylan Scott. We learned that, while that week we had shared sand with Nick Lachey, previous guests had shared sand with Stranger Things stars and other 90's heartthrobs like Chad Michael Murray – we feigned jealousy for a moment in honor of One Tree Hill, but ultimately decided we'll simply have to come back.
Willing the night not to end, we again returned to our beloved Cricketer's Pub for another night of karaoke and cocktails, this time with a special guest.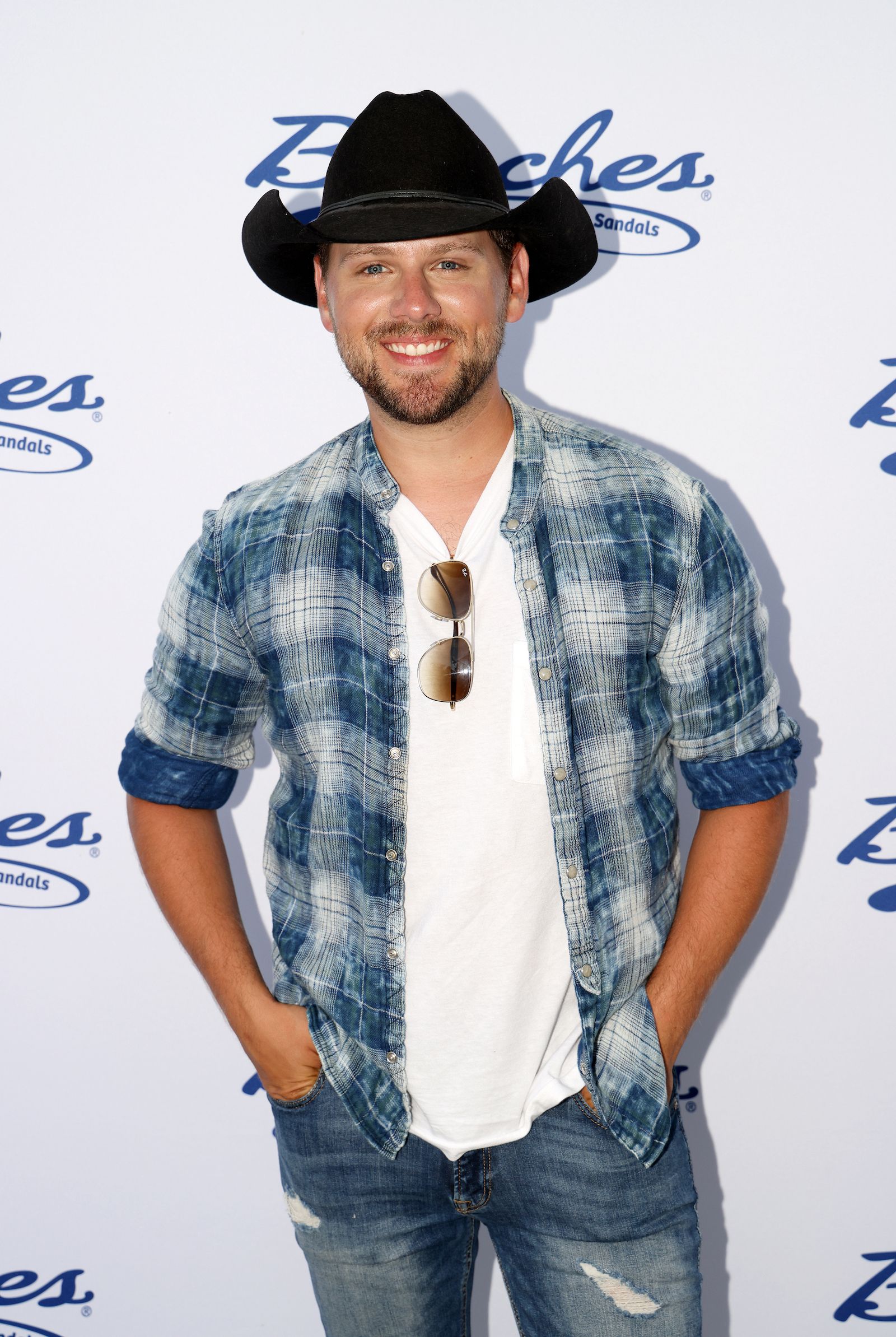 Photo: Getty Images for Beaches Resorts.
Brett Kissel, the country artist fresh off his stage performance with 98 Degrees, made his way to the front of the pub for his rendition of Aerosmith's "I Don't Want to Miss a Thing." The crowd, including the staff and the bartenders, went wild.
That performance was hard to follow, but of course, we did. In a manner much less impressive than the country star who preceded us, we performed "Total Eclipse of the Heart" with five girls sharing two microphones. Did the crowd love it as much as they loved Brett Kissel? No, but that didn't stop them from joining in with passion.
With our vocal cords tiring and our sun exhaustion setting in, we returned to our rooms on cloud nine to take one last dip in our villa's beach-side pool.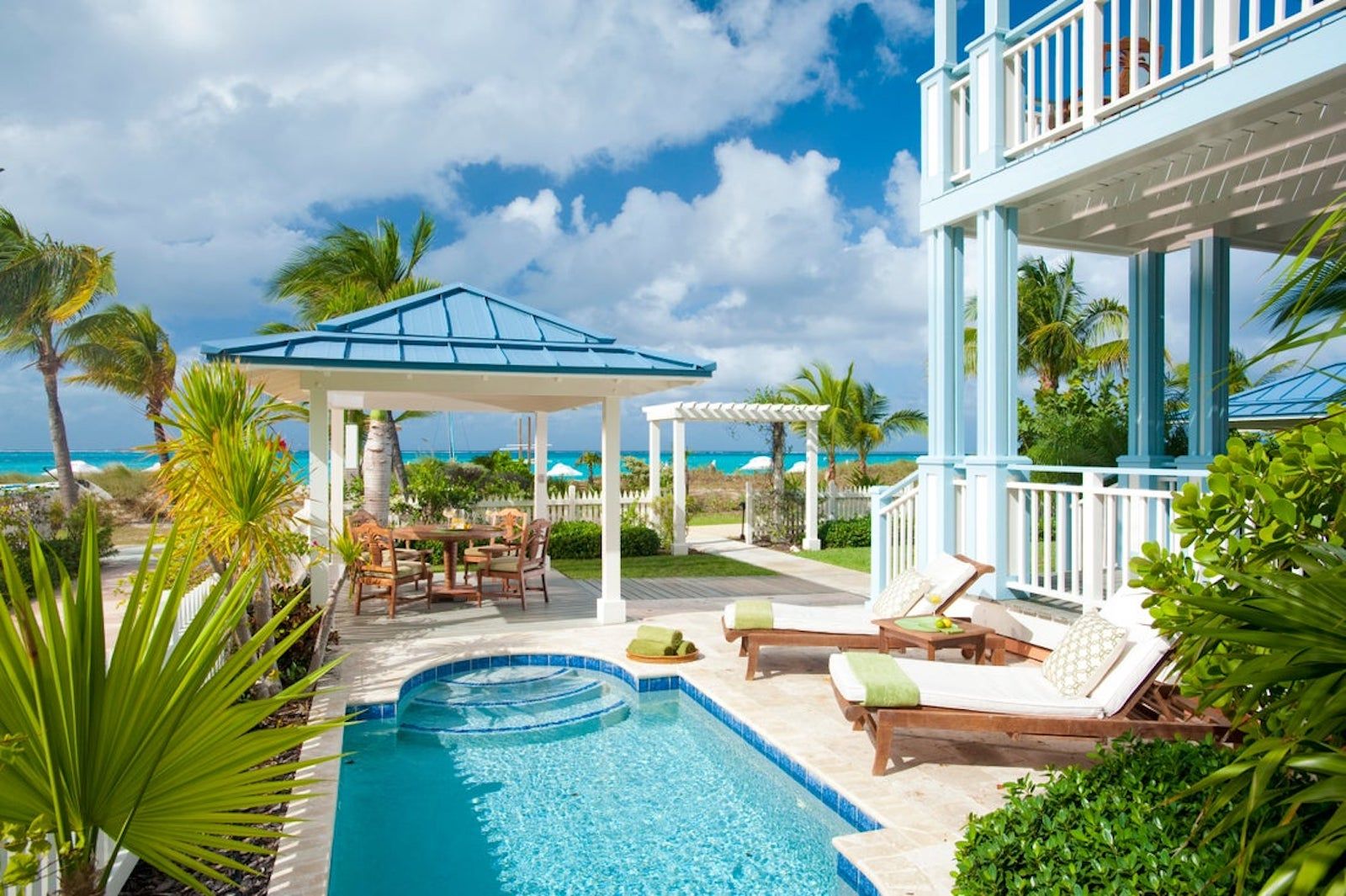 Photo: Key West Beachfront Four Bedroom Butler Villa Residence with Private Pool.
The morning was bittersweet as we packed our bags and came together for a final brunch overlooking the Caribbean Sea – and for our last meal, we didn't skimp out. We ordered every breakfast item on the menu at Barefoot by the Sea. With our toes in the sand, we enjoyed acai bowls (almost too pretty to eat), savory french toast, and pancakes galore. Yum! With our bellies and hearts full, we checked out of the resort and made our way to the airport.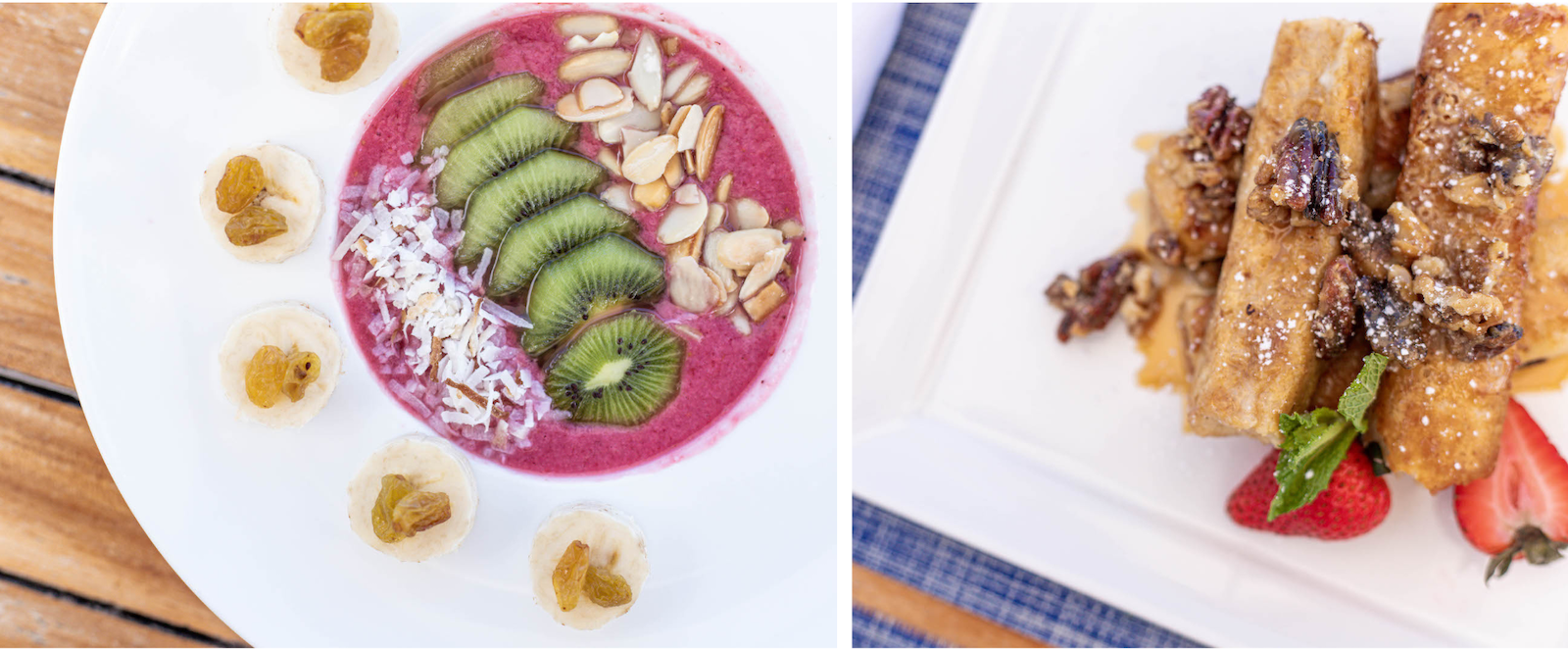 Just when we thought the trip was over, walking past us with suitcases in hand, was Nick, Drew, Justin, and Jeff – the four members of 98 Degrees. We took it as a sign and knew we would regret not saying hi to our favorite 90's boy band, so we did just that. We approached the band, this time not on a stage but just mere feet away. We explained that we were guests at the resort, saw their show and had the night of our lives. They couldn't have been nicer or more welcoming, they thanked us for coming by and asked us all where we were headed before being called to their boarding gate.
There, in the Providenciales airport, we watched our favorite boy band board their flight, before promptly checking our calendars to plan the next girls' getaway to Beaches Turks and Caicos.